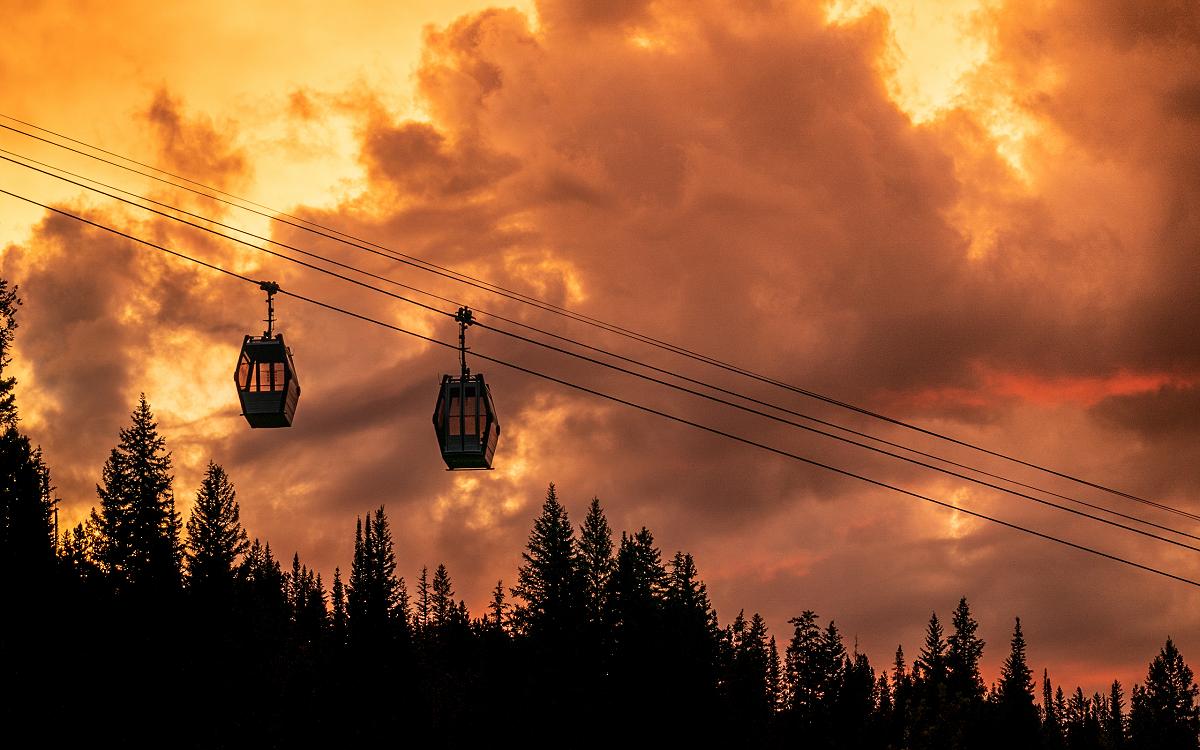 Colorado has been a home base long enough to know that you could set your watch to the afternoon storm clouds that fill the sky and the run-for-cover soaking that comes along with them. The storm rarely lasts more than an hour, and after the sky is done letting it all out, the clouds will part in a way that can make the late afternoon a whole new day, glistening in the encore of the days light. It's my favorite time of day, and if you know what to expect, you'll patiently wait out the storms fury, knowing just how good the second-serving will be.
I pulled into Winter Park, Colorado late in the early afternoon as the tell tale clouds began to fill the sky. It was practice day for the Big Mountain Enduro, and it was apparent who was in from out of town, and those who call the Rocky Mountains home. The local crowd filled the parking lot, firing up bbq's beneath tarps strung from van to van, while the visitors scurried to get on the lift before "the day shut down". Just as it does, the sky cracked open and those that were on the hill kept plenty hydrated.
Hopping on the chairlift after the storm had passed, warm, dry, and with a belly full of bbq, it was exciting to look down upon the freshly watered trails of Trestle Bike Park, dust-free and prime for the race the next day. Winter Park has always been a favorite Colorado downhill track, and regardless of where you're from, it was easy to tell that hero dirt was on the menu for the next morning.
There are plenty of great articles to recap the race, and you should take a peek at the imagery and words from the talented Eddie Clark and James Stokoe , but aside from spewing about how much I like Colorado storms, personally, the weekend provided me with an excellent arena to practice a few techniques that are worth mention in this particular space.

I wasn't on assignment at this race, so the pressure to fill deliverables didn't get in the way of experimenting and practicing a few things that can take some time to perfect. I typically prefer to shoot in locations where trails are few, and the landscape takes the leading role, but Bike Parks provide some opportunities that are hard to find in the wild. Having a couple of hundred athletes guaranteed to rally past, you have yourself some prime opportunity for some experimentation.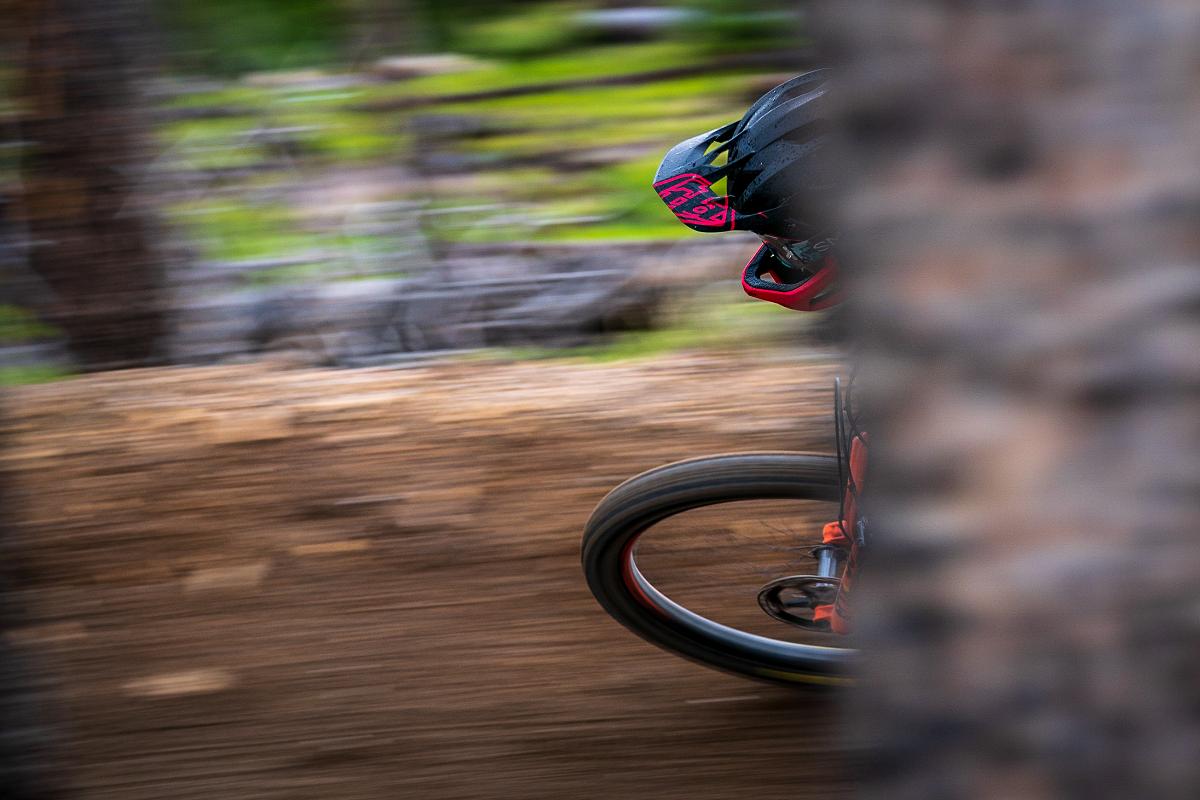 Hide and Streak with Cooper Ott ( f8 - 1/60th - ISO 400)

PAN SHOTS:
A trick any bike photographer should have up there sleeve, the race track is possibly the best place to practice and explore the nuances of the pan-shot technique. Ideally, you capture an image full of colored streaks that speak to the speed of these athletes, with just enough detail to freeze them amidst the motion. A long enough shutter speed will provide the smooth blur you're seeking, while careful tracking of the subject will be your key to finding detail where you want it. The technical side of this shot is simple enough: aim for a shutter speed between 1/30th and 1/125th, and experiment. Various focus-locking features your camera has may prove useful, or you can lock your focus upon a place in the track you wish to capture the athlete in motion. You can shoot single exposures, or burst, but the latter will result in a far greater chance for what you're after. 
You might find yourself with just the right camera settings, but so much of a quality pan shot will result from two things:  your body position and foreground/background texture. The former is what's in my opinion really important and the reason that a race is such a great place to practice this technique. The bike park confines racers to a specific and somewhat predictable place in your field of view, and as a result, you have the chance for calculated repetition that hones your muscle memory and timing. By repeating the same motion dozens of times, you will find yourself getting acquainted with the pace of the action, allowing you to focus upon framing up your subject and providing you a much better chance to focus on other elements. Try framing up the athlete well before the composition you plan to shoot, and stick with them well after you have finished firing off your shots. This follow-through will really aid in locking this movement. Experiment with your distance from the action, but keeping 10-15' away from your subject will give you an easier time keeping up accurately with someone at race pace. A zoom lens will provide you the chance to experiment with different focal lengths while remaining in the same position, key to saving time and preparing for the next racer with minor adjustment.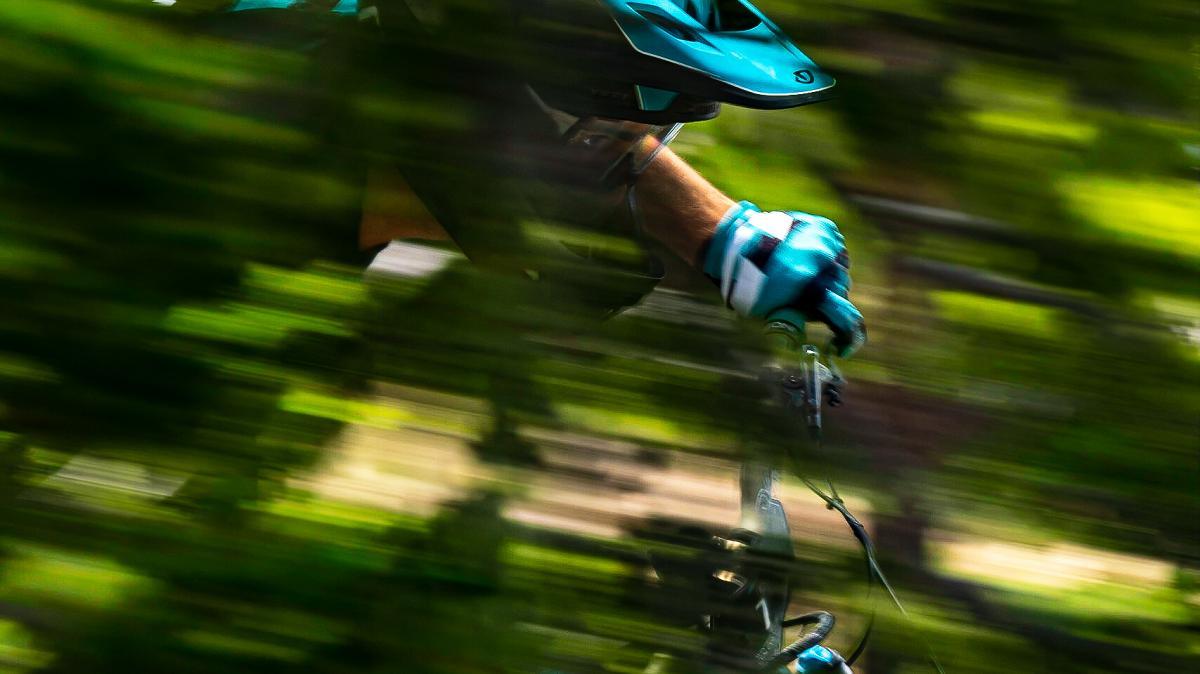 Shawn Neer with the race pace face ( f10 - 1/80th - ISO 160 )
Foreground and background will become very different looking places with a bit of motion blur. Don't hesitate to try a pan shot without a subject in place to get familiar with what the scene will look like through a slow shutter. Bright leaves will become bright streaks that can be distracting or complimentary. A beautiful field of grass may become an ugly dark splotch that just doesn't fit. Have a peek at what the scene will provide before you lay it on the line with an important subject. Personally, I love high contrast scenes as the darks and brights will make for great streaks that really make the image feel fast!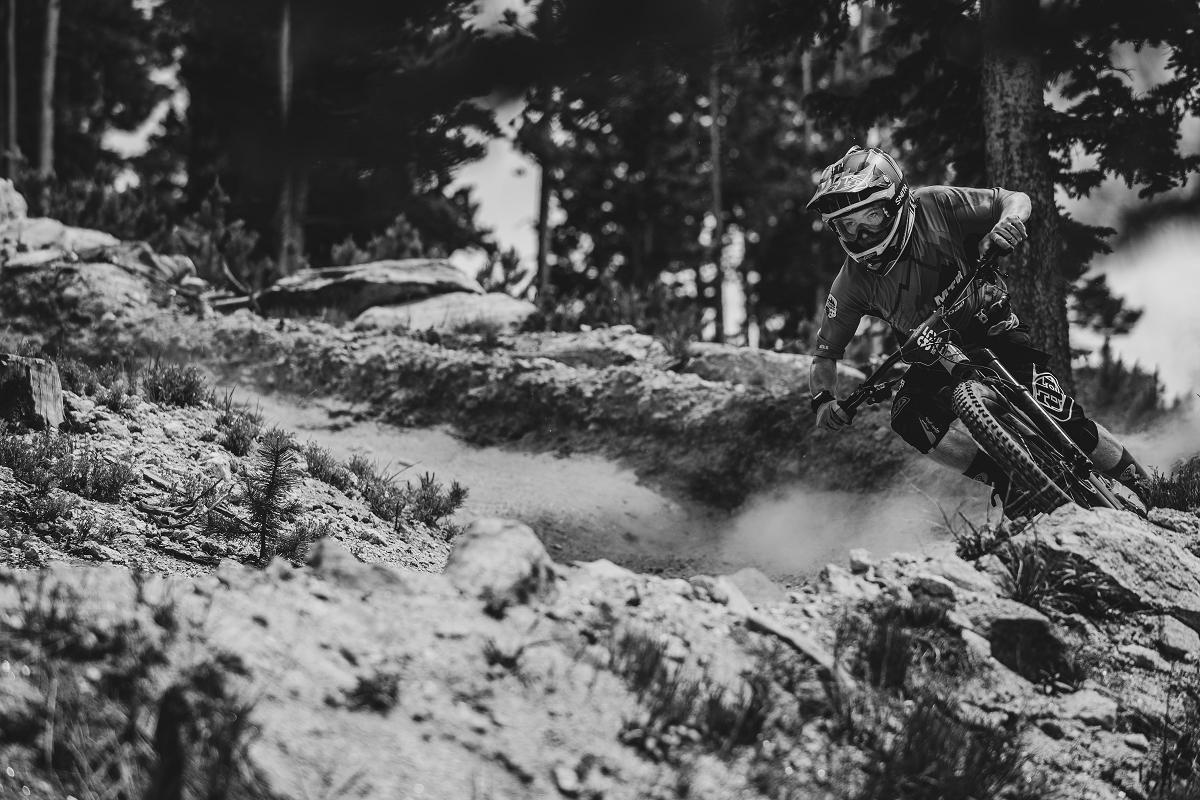 Lincoln Rhonemus makin tracks ( f4 - 1/800th - ISO 125 )

UNDERSTAND THE SUBJECT:
I feel strongly that we should spend far more time observing than shooting. Not always possible on a shoot in a fast paced environment like a race, but that is one of the reasons I went to this race without an assignment. It's good to practice and without the pressure of delivering to a client, your able to spend more time observing the environment and the shapes that each rider will make when smashing through the terrain before them.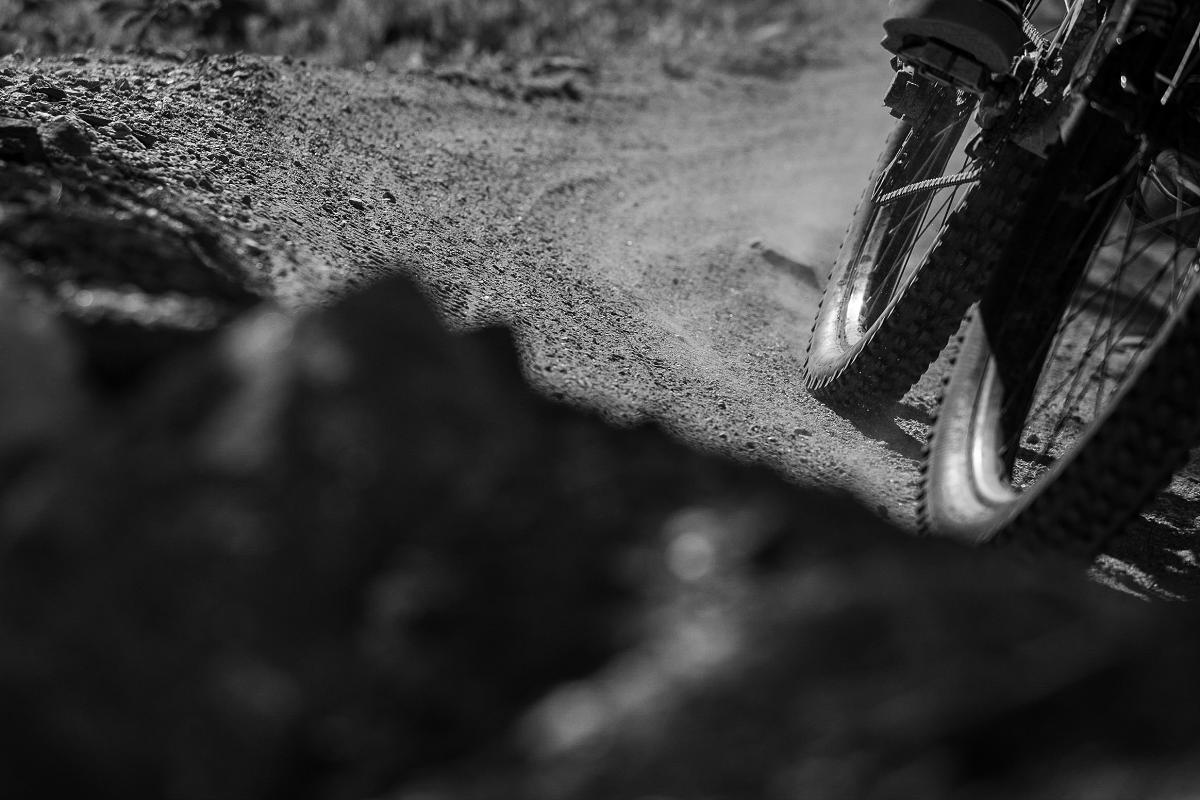 I'm an avid mountain biker, so it's somewhat easy for me to predict the way that an athlete will attack the course, but some observation will provide anyone a decent idea of what to expect. By understanding what the bike and rider will go through, we can find compositions that compliment the scene. Smooth straightaways might lack body language that a tight corner will provide...try a pan shot there as they'll be less likely to bounce or rattle out of focus. That dusty corner with the hard light coming though the trees...bet that you could wait until a few dozen riders roll through and find some great back-lit atmosphere to work with as the dust rises. Taking care not to focus too much on the composition of the environment, but rather, getting to know how the riders are managing the course, can lead you to a really great image.  Even using your ears to find a great shot will often work…listen to the sound of the bike ricocheting its way through an area of trail. If you hear shale exploding from a loose corner, it might be worth checking on…Does it SOUND like it might be worth shooting? 
There are a lot of techniques that can be employed in the race environment, but it was great to focus on a couple that I felt would result in specific compositions I was looking for. The Winter Park Big Mountain Enduro was a lot of fun to shoot this year and I managed to walk away with the couple shots I wanted and a few practice sessions I wanted to get in before the bike shooting season really got underway. An old friend / musician I used to look up to used to say that "you gotta practice what you can't do. . .  otherwise, you're just getting better at what your already good at". He wound up becoming one of most diversely capable musicians I've witnessed and I believe it was directly the result of his passion for practicing that which he did NOT have a grasp upon. 
Looking forward to a lot of days on the trail this summer, and plenty of time to work on all the techniques that need a little practice.